Ladbrokes Bingo Review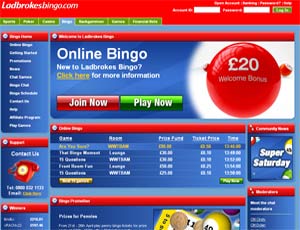 Ladbrokes is one of the most well-known betting shops in the UK and it has developed a strong online presence in recent years too. This internet placing has grown stronger with the provision of Ladbrokes Bingo, a stand alone site which aims to cater for the bingo needs of everyone.
Ease of use
The Ladbrokes bingo sites offers an auto-dab feature to allow new users to keep up a pace with regular users and this is encouraging for many new starts. Bingo is an extremely quick game and if people are uncomfortable with using a computer, they may be losing out on money which they would have won in a normal game of bingo.
Bingo
The Ladbrokes Bingo site does not offer the same number of variety of rooms as some of the other bingo sites but there are still frequent games to choose from and a player will never go too long waiting to play another game.
The caller voice is very clear and when the playing screen is maximised to full size, its clear enough to differentiate between the numbers being called and your own playing cards. Sometimes the chat option and moving animation can provide an unwelcome distraction to your playing but over time, it becomes easier to blank out these features and focus fully on the game.
There is an additional feature from Ladbrokes which allows players to gain a jackpot bonus if they get a full house in under 33 and 38 balls. If this is the case, players can claim a progressive jackpot which starts at £5,000 and continues to rise daily until it is won.
Promotions
Placing £10 into a Ladbrokes account and then buying at least £10 worth of Bingo tickets will see the player being awarded £20 of bingo tickets.
There are a host of other promotions available at the Ladbrokes site including "Cheap Tickets Tuesday" where tickets on Tuesday morning cost as little as 5p or 10p and there are many BOGOF (Buy One Get One Free) tickets available for sessions on Monday morning and evening.
These incentives and promotions can be a great way to develop your playing skills for a lower price or just may offer the user the opportunity to have fun for less cost.
Additional features
Clicking on the Games element within the Ladbrokes Bingo sites takes the player directly to the main Ladbrokes site and allows them access to the full range of games there. This means that compared to most of the bingo sites, there are a far greater number of games on offer here but it is part of another site. This is no problem and causes no problem or change to the player but it does introduce the player to the full range of Ladbrokes gaming options and if you only want to play Bingo, this may be another temptation.
There is a brief summary of the type of bingo chat that the players will use in the chat room so that can be a good place to start to familiarise yourself with what is being spoken about. This allows players to get fully involved and enjoy the community aspect of the game more.

LadbrokesBingo Bonus Information