888 Ladies Bingo Review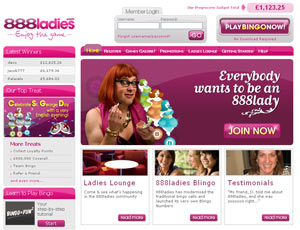 With a name of 888 Ladies, it is no surprise to see that this site is aimed entirely a the female market and therefore there is a lot of pink involved on the site.
Ease of use
One great reason to use this site is they offer a full "how to play" section that will walk the user through every level of the site up to an including how to play bingo. This has been overlooked on a number of sites but considering that these bingo sites are hoping to encourage many new users to the site, it is an important feature and one that 888 Ladies has got just right. There is nothing overly difficult about the site but if you want to earn value for money from the start, it may be best to use this facility and learn a little about the site before you start playing.
Bingo
75 and 90 ball bingo is on offer at 888 Ladies and with new games starting every couple of minutes, there is never that long to wait on playing bingo. The number being called is shown at the top of the screen, below that is a list of the last five called numbers and underneath that is a checklist of all the numbers so there is no real danger of missing any calls.
However, as the game moves quickly, there is an autodaub function provided by the site which guarantees that "IF YOU HAVE A WINNING BINGO CARD, YOU WILL ALWAYS WIN" which is reassuring for players who may be new to the concept of online bingo and fear losing out on some of their winnings due to not being able to keep up.
Promotions
There are a number of welcome bonuses to encourage new users to sign up at 888 Ladies with the traditional £10 joining fee being the simplest offer and one that it open to all.
There is also a 150% (up to the value of £150) that is offered to all users as long as they deposit at least £10 on their first visit. After this, every deposit made between £20 and £100 is matched with a 50% bonus for all players.
888 Ladies also offers loyalty points and bonuses to users and by referring friends, making purchases and entering chat rooms, players can gain points with 1,000 points equalling £1.
Additional features
888 Ladies offers 30 instant win games meaning there is always an opportunity to make some money or have some fun. These games include:
Instant Wins
Blackjack
Roulette
Slots
Video Poker
If you just want to play bingo then you do not need to concern yourself with these options but they can provide a welcome distraction or an alternative to the main game for many players. These games are becoming increasingly popular on sites and the range offered by 888 Ladies is comparable with many of its competitors.
Like the majority of bingo sites, there are chat facilities to allow players to communicate with each other and this provides the sense of community that is prevalent in a great number of physical bingo sites.

888 Ladies Bonus Information