Bingos Review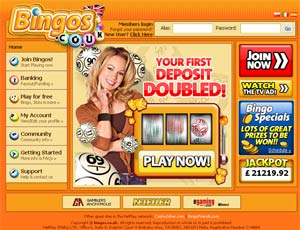 Its hard to recall any other bingo site that greets its users with a vibrant orange welcome page and Bingos doesn't follow the tradition of many of the other sites. The main focus of the home page is tom draw people's attention to the television show where punters can play as opposed to bringing the website games to the fore.
Ease of use
The speech facility pops up before and after games to offer advice and to ensure customers know when there are games coming up and when the deadline for buying cards is. This extra touch can help players who are perhaps caught up in playing some of the other games available and lose track of time of the next games.
The autodaub facility takes the real pressure away from the game and allows players to play a number of cards at the one time. However, the real triumph of this site is that it offers free trials and unregistered plays of the majority of its games, including bingo, which allows any potential customer to try the games without registering or paying any money. Given the high competition between these sites, having the confidence to offer so many free trials is a sign of a company who believes in their service. Bingo
There are 75 and 90 ball bingo game on offer from Bingos and they play quite smoothly and on a much smaller screen than compared to some of the other games. If a person buys the maximum amount of cards they will have to scroll across the screen but with the autodaub facility this is not as troublesome as it may have been.
Bingos Bonus
All new members are offered a 100% matched bonus and the longer people stay and sue the Bingos site, their ranked level will increase which will see them rewarded with a greater level of matched bonuses. A bronze member will receive a 25% matched bonus of their deposits but if a member gets all the way up to Diamond member they will receive 125% for every deposit they place on the site.
In addition to these bonuses, from Gold member level upwards, gifts are given to Bingos members. Gold status members receive a mug and hoodie, Platinum members receive a clock and mouse pad whereas Diamond members receive a t-shirt and bag.
Additional features
Bingos runs the Big Box Bingo games that are shown on Sky TV every Friday night and cards for this game can be purchased through the site. In addition to the television offering, there are a number of games available on the site including:
Online slot games
Video Poker
Roulette
Pull tabs
Blackjacks
Craps
Table Poker
So there is no excuse to be bored whilst on the Bingos site with the vast amount of games and many of them can be played for free if you just want the fun with none of the hoped for financial gain.

Bingos Bonus