Gala Bingo Review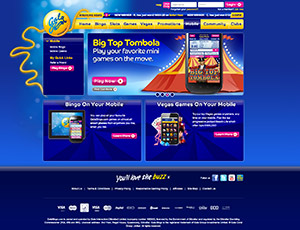 When you play online bingo you will want to stick with the top of the line companies. This is because these well established companies have a strong track record for delivering high payoffs, great promotional deals and strong customer service. If you are looking for such a company then you may wish to explore what Galabingo has to offer. While there are many online bingo facilities, very few can match Galabingo.
Based in the United Kingdom, Galabingo is one of the premiere online bingo sites on the internet. This is no small company as its employees number 17,000 strong. This should come as no surprise since the company operates 175 bingo clubs. Obviously, such a company could never reach such lofty heights if it was not offering a solid product to its customer base. People must keep coming back for a reason. Those reasons are professional run bingo rooms that provide a great opportunity to win money. Then again, the huge bonuses that Galabingo offers has much to do with its popularity as well.
As the company's website indicates, all it takes to join is open an account, make a deposit and then start playing. Once you do this, you are well on your way to bingo fame and fortune. Then again, if you have interests outside of bingo this is a great service to play with as well. Galabingo also offers online lotto, slots, roulette and even a variant of monopoly that you can play for real money! Yes, the reasons why this service is so popular are quite apparent. It is truly an online gamer's dream!
The firm is responsible for around a quarter of the number of bingo halls in the UK and this is bound to offer many players confidence in using the online facilities offered by Gala Bingo.
Ease of use
Given that Gala Bingo offers its users the opportunity to play up to 60 cards at one time, there has to be an easier way to play the game and dab all your numbers. There is a grid at the top right of the playing screen which runs from 1-90 and when a number is called, all you have to do is click it on this grid. This will automatically dab it on all of your cards, making it possible for a player to play a large number of cards. This may take away some of the element of what makes bingo fun but it does allow a far greater number of games to be played.
Bingo
Gala offers 18 different clubs and offers 75, 80 and 90 ball bingo so there is a great deal of opportunity for players to get involved and find a game that suits them. Players can customise their layout and markings to make it more distinct to help with their playing but it's a relatively straight forward approach to the bingo once the game gets going.
If you can play bingo in real life and you can adapt to using a computer there is no problems but it may take a little while to get fully up to speed with the Gala game but with so many of the games available at a low price, it is perhaps wise to start with a few low cost games.
Promotions
As soon a new member deposits and spends at least £5, they will be rewarded with £20 from the Gala site. In comparison, to some online bin go sites, this is quite a simple offer. It doesn't offer a lot of money like some sites but it reduces the complications that are sometimes involved with online gaming and gambling.
Experienced players or regular players may prefer a bit more incentive but for the casual player this straightforward incentive may be much more sensible for them to take advantage of.
Gala also offers a "Everyone's A Winner" promotion where they provide 50p to every player to ensure that no one goes away empty handed. This "winning" is not credited until the next day so this ensures players will keep returning to the website but it is another small gesture encouraging people to sign up.
Additional features
The Gala Bingo site has a lot of close links to the Coral bookmaking site so this gives the site an edge in offering additional games and there is a lot to choose from:
There is a huge variety of scratch cards available
Roulette
Single player Bingo and Keno games
Slots
Roulette
Games based on TV shows like 'Deal Or No Deal' or 'Goldenballs'
Every evening Gala TV operates on the website and players can play along alongside the caller, giving the game a more realistic feel. This showing is also provided on the television in a Sky channel but as not everyone has Sky or other people may be watching other programs, this website offering of the programs ensures a greater number of people can watch and play.
The club has a strong endorsement with Sharon Osbourne and theres even a club in her name, so if you are a fan of the outspoken wife of Ozzy, Gala Bingo may just be the bingo site for you.

GalaBingo Bonus Information