Harrys Bingo Review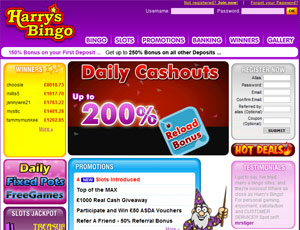 Harrys Bingo may not be the most polished bingo site on the internet but that may also be some of its charm to many users and it definitely stands apart from some of the more generic bingo sites that are available nowadays.
Ease of use
There are no great difficulties associated with using Harrys Bingo but it is fair to say that it is not as slick as some other bingo sites available. If you are comfortable with bingo sites or you are intimidated by sites that look very sleek and modern it may be that Harrys Bingo offers a more pleasurable experience Bingo
There are three different bingo halls available on the Harrys Bingo site with one 80s ball room, and two 90s ball rooms on offer with prices starting from as little as £0.10.
The playing element of the site is as comfortable as many other sites and there is nothing to indicate that even novices of online bingo would have any problems with these games. Harrys Bingo Bonus
All new members are given £10 to start their bingo playing and this is an ideal opportunity to try out a site and see if you like what they have to offer.
This is then followed by a 150% bonus for new members on their first deposit. Harrys Bingo operates a sliding scale of bonuses for players depending on the amount of bonus points they have accrued. Reaching Legend status will guarantee a 100% bonus with every deposit so players who regularly play with Harrys Bingo have something to show for their loyalty.
Like a number of other sites, Harrys Bingo offers the opportunity for a player to have one of their electricity, gas or water bills to be paid in a month. It may not be a major cash prize but it can be a good prize to win and can alleviate pressure for some people or just provide them with some extra money at the end of the month.
At the time of examining the site, there was also a prize draw for a barbecue set which rewarded every £10 deposit with an entry into the draw.
Additional features
Team tournaments are organized on a regular basis which can provide a great way for friends to combine and hopefully share in a bigger prize. This is also as much fun for the camaraderie involved as opposed to the prize fund so it is easy to see why a team element in bingo can be enticing to many members.

Harrys Bingo Bonus Information