Jackpot Joy Review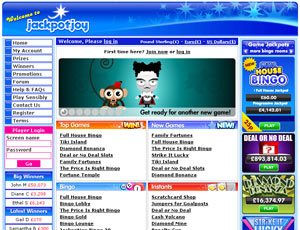 Jackpot Joy may not be the first name people think of when considering online bingo options but given that the firm was awarded the 2007 'Bingo Operator of The Year Award' by E-Gaming Review, it is fair to say they have been pleasing some people. This site stands out from most of its peers by concentrating on fun and brightness as opposed to going to the immediate "bingo is played by women so lets colour everything pink" approach that many sites take.
Jackpot Joy is markedly different from a great number of bingo sites available and this should appeal to any player who wants something else from their online bingo choice.
Ease of use
There is an immediate "How To Play" tutorial video using cartoons and offering very clear instructions about the entire process from starting up, buying cards and playing the game. Of all the main bingo sites, this tutorial is by far the most comprehensive and impressive seen and should be considered by anyone wishing to take up online bingo but is not very confident about it.
With the option to autodaub your card and even increase or decrease the size of the cards on your screen, there are many options available with this game but everyone of them is easily accessible and manageable due to this well thought out tutorial.
There is also a free 24/7 helpline to give further assistance to any player who is struggling with anything involving the game.
Bingo
With Game Jackpot, Progressive Jackpot and Super Jackpot prizes up for grabs, there is an incentive for people to play with Jackpot Joy and they offer 75, 80 and 90 ball games. As more people join in, more studios become open which means there are always games on the go.
After winning a game, a player gets the opportunity to treble their winnings by playing Plinko, depending on where the ball ends up. There is the chance the winner can lose 25% of their winnings but with 1.5, 2 and 3 times their original winnings up for grabs, it is easy to see why so many players are interested in taking the gamble.
If this sounds familiar it is because it is a format borrowed heavily from The Price Is Right game show and there are many influences of that show on this site. Jackpot Joy provides a number of mini games such as the hiking man and
Promotions
The opening offer is a straightforward matched offer and for a deposit between £10 and £100, you will be given the exact same back. It's simple and effective and is enticing to a number of online bingo fans.
Additional features
As well as The Price Is Right game show being an influence, players can also take part in Deal or No Deal and Family Fortunes games. These games form just a part of the huge range of games available including:
Slots
Scratch cards
Instant Win Bingo
Casino Games such as Blackjack, Poker, Roulette and Hi-Lo
Amongst many more. Jackpot Joy also provides some mobile games which mean you can have the fun when you are on the move.
Online bingo sites are evolving at a great rate but many sites offer the same options but this cannot be levelled at Jackpot Joy. They may not be a website you have heard of before now but if you are looking for an interesting helpful website with plenty of options, there are not many better sites around.

Jack Pot Joy Bonuses