Mecca Bingo Review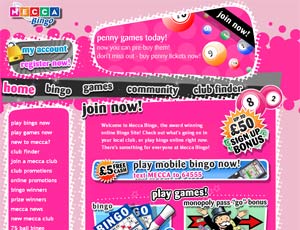 Arriving at a pink welcome page immediately informs the player that the Mecca Bingo site is for the ladies and is one of the many established bingo firms aiming to break into the world of online bingo. With over 100 physical sites across the UK, Mecca Bingo is a name familiar to many bingo players and this branding will encourage many users to give their online facility a try.
Ease of use
There is a suggestion that the general user of the new bingo sites may not be as technologically savvy as other internet users so there may be a tendency for the sites to be simplified. Mecca Bingo offers a play for fun option which lets new users get to grips with the games before they start playing for real money and this is a sensible option, particularly to those people unsure of the Internet.
Bingo
There are a whole host of rooms and games going on and there is a handy schedule that allows you to see what games are coming up, allowing you to create a schedule for the day ahead. Different games and times have different values to play for and the provision of this schedule enables users to focus
Mecca Bingo had 8 rooms active and the sessions were split into four separate times (Night Owl, Morning, Afternoon, Evening) which should ensure that there is bingo action whenever it is required. With some rooms featuring new games starting every five minutes, there is a lot of options for any bingo fan.
There is a fun element where you can choose your own dabber (ranging from standard to a magic wand or a hammer), colour and what mark you leave after you have noted a number. This may just be a silly addition but it can allow a person to personalize their game and add a little twist of excitement to it.
The numbers come as fast as they do in real bingo so there may be a need to improve your reaction skills on the computer but the numbers are clear to see and there is an audio option available to capture that caller feeling.
Promotions
With Mecca Bingo, new users can get up to £50 as a sign up bonus but the offer works on a sliding scale. As long as a user deposits £10, and they then play £10, they will receive £10 back. If they deposit £25 and then spend £125 they will receive a bonus of £25 and if they deposit £50 and then spend £500 playing online bingo, a bonus of £50 is given to them. This is a bit of hard work to obtain the money but if a user is planning on playing regularly this incentive may encourage them to sign up with Mecca Bingo.
Additional features
In addition to the Bingo, there are a number of games for punters to try their luck at and these include:
Slot Games
Casino Games
Multi-player Bingo games
Keno Games and
Number Games
The Mecca site tries to offer some of the camaraderie and social aspect that is associated with physical bingo outlets and this is shown in the range of forums and the community the site tries to engineer.
With so many games on offer, it would be possible to devote a lot of time to this website so if you are looking for a bingo site that will be the basis for the majority of your online playing, the Mecca Bingo site could be the one for you.

Mecca Bingo Bonus Information