The Mirror Bingo Review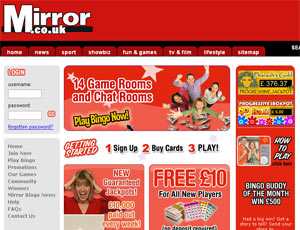 More and more companies are trying to become involved in the craze of online bingo and national newspapers are no exception. The Mirror are just one of the many tabloid papers offering online bingo options for people and the site manages to provide a clear and simple opportunity to play bingo which should appeal to a great number of folk.
Ease of use
The layout of the site is separated into a lot of blocks which allows for a clear deviation between different sections and makes it very easy to find what you are looking for.
The FAQ section is fairly detailed and should hopefully provide players with a lot of information to ensure they get a lot of enjoyment from their bingo playing.
Bingo
There are many similarities between Mirror Bingo and Foxy Bingo, given that they are both organised by Cashcade, this should be no great surprise and it means that any user comfortable on one site should be able to use the other with no problem either. Itís a very easy to use Bingo site with assistance available for any new user and should pose no real difficulties for any user.
This means that 75 ball and 90 ball bingo are up for grabs and there are a great number of rooms available to ensure that no matter the hour of day, there is a bingo game available to play.
Promotions
For a minimum of £10 deposit, every new member at Mirror Bingo is rewarded with a £20 free bet. As their site says, this will give any user £30 to play with and with games on offer from 5p; this means there is the possibility for 600 games of bingo for an initial £10 deposit.
Mirror Bingo also run short term promotions and at the time of checking their site, they had a promotion where £1,000 could be won every day for FREE. By entering the Free Bingo Bonanza Room players can have the chance to grab a lot of money for no cost which is a massive incentive for a great number of bingo players.
Additional features
There are a number of Instant Win games available at Mirror Bingo including:
Slots
Scratch cards
Bingo
Keno
Up to £25,000 can be won on these games and if you play on a Tuesday and lose, 15% of your stake is returned to you, reducing the risk involved with playing.
The Mirror does no compete with a lot of firms with regards to flash graphics or by offering a lot of deals but in all honesty, it is not trying to compete for that market. The Mirror Bingo site is an extremely simple and straightforward bingo site for people who just want to play bingo with the minimum of fuss. If that sounds good to you there are a lot worse bingo sites around than the one offered by The Mirror Bingo site.

The Mirror Bingo Bonuses