Paddy Power Bingo Review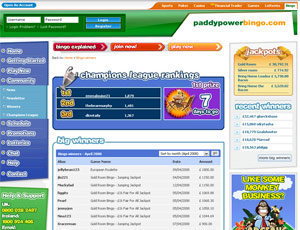 Paddy Power is probably one of the most famous online gambling sites and the company are well known for their incentives, marketing and novelty bets. They have cornered a large part of the fun end of the online gambling market and their entry into the online bingo community sees the Irish based company attempting to do the same here.
As Paddy Power is an existing company they have made easy for any existing customer to update their details onto the Bingo section of the site which will save time for anyone has gambled with Paddy Power in the past.
Ease of use
The Paddy Power Bingo site follows the same layout and style plan as the main gambling site which brings the same benefits and drawbacks of that site. A lot of the text is very small which is not great for some users but everything is easy to find and most areas can be accessed from one page. The standard layout and links of the site makes it very simple for people who have used similar sites to navigate their way around.
Bingo
Paddy Power Bingo only offers 90 ball bingo, which is not as much as many sites but it is the most commonly found type of bingo so there shouldn't be any difficulties with this offering. With 2 rooms and around 10 games on offer each hour there is still a lot of opportunities to play bingo with Paddy Power Bingo and there isn't really any problem with the lack of options available.
Promotions
Paddy Power Bingo offers a large loyalty element to its customers with every £1 spent on bingo being rewarded with 1 loyalty point. The more loyalty points you earn, the way that bonuses and matched bets are offered begin to differentiate.
For instance, newcomers to the site who have 0 loyalty point – ie, yet to make a deposit – are rewarded with a 200% matched bonus on their initial deposit. The next deposit will then see a person earn a 50% matched bonus on their deposit.
After a player earns 500 loyalty points, they will be eligible for a 5% bonus on all their deposits and this pattern continues depending on how many loyalty points they have. After a person has obtained 50,000 loyalty points they will receive a 20% bonus of all deposits they place with Paddy Power Bingo.
These offerings are more complicated and convoluted than the majority of sites offerings but it can be seen that there is an incentive for regular players. If you are planning to play regularly and deposit a lot of money with an online bingo site, Paddy power Bingo would make sense as they offer continual benefits for long term users.
Additional features
In addition to the standard chat options, Paddy Power Bingo offers an Agony Aunt section where members can email in with any problems and get some advice from outside sources. This is not very common with regards to gambling or bingo sites but it follows the Paddy power pattern of being a very individual company.
There is also a direct link to the main Paddy Power site and to a specialist Lotto section allowing punters to play the lottery game from a huge range of countries.

Paddy Power Bingo Bonus