Party Bingo Review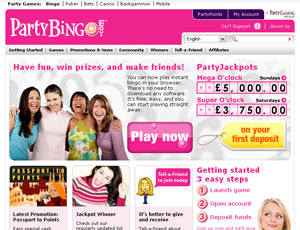 The Party Brand is a major company in the online gaming industry and its entry into the Bingo sector sees its bringing its experience and expertise to this new field. If you are familiar with the layout of the other Party Gaming sites then Party Bingo will offer no surprises to you but it will look a bit pinker.
Ease of use
Party Bingo is a very clear and easy to access website which shouldnít hold too many surprises or difficulties to navigate around. A heavy use of pictures will also aid the player to quickly find what they need. The FAQ section is fairly comprehensive and should provide a good starting place if any problems arise.
Bingo
There may not be as many Bingo options on the Party Bingo site as some of the other bingo sites but there is still a mix of 75 and 90 ball bingo to choose from as well as instant bingo games.
The daubing of numbers is done automatically which allows the player to concentrate on other issues or removes the fear of missing out on some calls. This is handy for new entrants to the world of online bingo as it ensures they can match experienced players.
Promotions
As is the trend for many websites, Party Bingo offers a 100% matchup bonus, up to the value of £100, for all new users who deposit at least £10 with the site. A straightforward matched offer may not be the most exciting incentive for users but at least they know exactly what they are getting and donít have to jump through a number of hoops to earn their free bonus.
Additional features
Aside from the main bingo options there are a couple of Casino options available on the Party Bingo site but there is not a great deal of extra features on the main site.
However, the Party Bingo site is linked in with the Party Gaming brand which means that with one click you can have full access to all the Betting, Poker, Gaming, Casino and Backgammon options you could ever need. This isnít for everyone but if you want to have a wider range of options than just bingo, then the Party Bingo site may be a great place to start.
The community section features many hints and tips and the chat room facilities are aided by additional games where players can win free cards by interacting with the hosts during online bingo games. Perhaps it is indicative of the emerging nature of the online bingo community but the majority of sites are competing on providing simple and clear options to play and have fun. This is ably supplied by Party Bingo who offer a fun and no-frills approach to bingo which should suit a great number of online players.

Party Bingo Bonuses