Spectra Bingo Review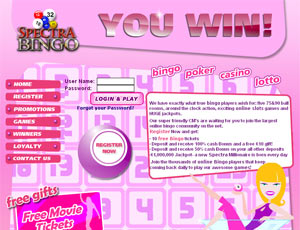 With a bright pink home page welcoming you to the site, there is little doubt that Spectra Bingo are aiming for the female market with the bingo section, which is part of the overall Spectra empire which includes Casino and Poker elements.
Spectra Bingo offers a loyalty system where 1,000 points is the equivalent of £1 which can be added to a persons account.
Ease of use
There is a 24 hour Help chat line which should enable any user to have their questions and queries answered quickly.
Like most sites, there is an autodauber function which can be of great sue to any member and Spectra Bingo insist that all winning bingo cards will result in people winning.
Bingo
75 and 90 ball bingo are both offered by Spectra Bingo and both games are relatively simple to play.
Coverall games with guaranteed jackpots and progressive jackpots times are listed in advance allowing players to time their playing to maximise their potential winnings.
Something a little bit different comes in the form of Team Bingo where teams of up to 4 players can band together can have their cumulative scores for the month compiled with the winning team each month being rewarded with 1,000,000 loyalty points.
An updated league table adds an element of competition and will no doubt encourage users to return to the site on a regular basis to keep their team as high up the league as possible.
Spectra Bingo Bonus
Spectra Bingo attempts to woo customers by offering a whole host of bonuses and incentives that go way beyond a matched bet for new members. They still offer a matched bet for new members, for deposits of between £10 and £100.
After this, there is a 50% matched deposit for deposits between £20 and £100 as well as 20 FREE CARDS for all new members. In addition to this, there is a friend referral system where loyalty points are up for grabs and guaranteed big cash prizes on a number of days and games.
Other incentives include the opportunity for three members each month to have their utility bills paid each month, something that isnít offered by many sites.
There are also free gifts on offer depending on how much money is deposited and some of the gifts can include:
Cinema vouchers
DVDs of TV series
Amazon Gift Certificates
There is no doubt that Spectra Bingo are working hard to offer a great number of reasons for people to come and visit their site.
Additional features
In addition to the Casino and Poker sections which can be found from any page on the Bingo site, Spectra Bingo offers a number of games for users to play when they are not partaking in the bingo game.
These include;
Instant Games
Slots
Video Poker
Blackjack
Roulette
A number of Chat games are also offered by Spectra Bingo and although its bingo offering doesnít stand out from its peers, it definitely a site that works hard at providing added bonuses and incentives to keep its players coming back.

Spectra Bingo Bonus