STV Bingo Review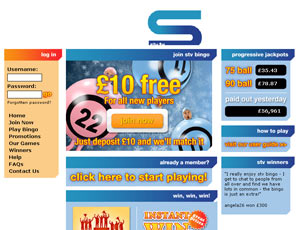 STV Bingo is contained within the Scottish Television website but it is open to people from all areas and not just the Scottish Television region. This is an indication of the way that many companies are releasing there is an emerging market for online bingo and are keen to get involved.
Ease of use
The layout of the site is squeezed into a smaller section of the screen (the perimeter of the screen acting as the STV website) but aside from that, itís very easy to navigate around the STV Bingo site. The layout and game pages are made by the same company who produces a great number of other bingo sites so if you have any experience of using online bingo sites then this will hold no fear for any player.
The help lines are only open on Monday to Friday and between the hours of midday and 8pm. This is much shorter than the vast majority of sites that operate a helpline service although there is also an email help facility available.
Bingo
With new games taking place every two to four minutes, there is always time to grab a game at STV Bingo and this ensures visitors have a good reason to pop back on a regular basis. There is nothing out of the ordinary for the bingo game at STV Bingo and the layout is featured in the columns section that is popular with many bingo sites.
STV Bonus
Newcomers to the STV Bingo site are encouraged by the promise of a £10 bonus when they sign up. This should allow any player to try the games on offer without using any of their own money and is a risk free approach to trying a bingo site.
Following this, any deposit of at least £10 will see the member being rewarded with a 50% bonus, with the maximum bonus they can receive being set at £50. Again, this is encouraging for users who are considering playing continually as this continual bonus should keep them coming back for more.
The offering of team games is becoming more popular on many sites and with £2,000 up for grabs in the STV Bingo team section, there is every incentive to get some friends involved and compete as a team.
STV Bingo also operates a referral section which will provide the existing player with 5,000 bonus points which can be translated into cash in their account. Additional features
There are a number of instant win games available on the STV Bingo site and these can be translated into bonus points. There are also many chat games which take place during the bingo sessions and these can allow players to win some extra cash and prizes.

STV Bingo Bonus Information