The Sun Bingo Review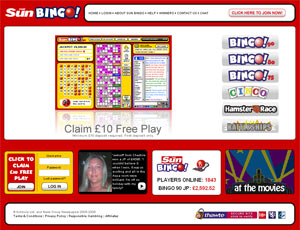 Your "super soaraway Sun" is one of the most recognisable tabloid newspapers and their online bingo facility will immediately appeal to a great number of the newspapers regular readers.
Ease of use
Players will need Flash Player to play on The Sun Bingo site but after that is enabled, the site is simple to use. Its big and colourful characters make it obvious what is going on and its very simple for people to get involved with the game and understand what they are doing.
There is no great level of instructions or guidance offered by the site but it is easy enough to pick up what is going on and it should not take too long to get into the swing things.
Bingo
75, 80 and 90 ball games of Bingo are available here and provide a great deal of opportunities for site users. Theres nothing much different from any of the other bingo sites online but there is a simplicity and ease of use about the whole set-up that should entice a number of users into using The Sun Bingo site.
Promotions
The opening bonus for the Sun Bingo site is a matching cash bonus of up to £100, which makes it incredibly simple for users. Simply deposit up to £100 and you will receive the exact same back with no need for further deposits or staggered payments.
There is a cash giveaway that every player is entered into when they buy a strip of tickets and at the end of the campaign, draws will be done of these ticket numbers with players having the opportunity to win up to a share of £5,000.
A similar promotion that is also being run is that every player is entered into a prize draw to win a £250,000 new home.
Additional features
Whilst the element of chat rooms is common in online bingo sites, The Sun Bingo site takes this feature to a new level by offering prizes to players for certain actions. When "88" is called during a game, the first person to type "Two fat ladies" in the chat room wins a prize at the end of the game. There are other prizes to be won for reacting to other bingo terms, guessing song titles from lyrics posted by the moderator, solving anagrams or many more topics. This creates an added element of excitement and interaction on the site giving users an added reason to use The Sun Bingo site.
The sites offers a free 24/7 helpline that users can call for advice or help with any gaming matters they may have.

Sun Bingo Bonus Information